No that isn't your eyes playing up, India is enduring such a severe heat wave some of its roads are actually melting.
At time of publication, 1,412 heat-related deaths had been reported as temperatures soar up to 47 degrees Celsius (117 degrees Farenheit.) in some parts of the country. Most of these deaths have occurred in Andhra Pradesh and neighbouring Telangana.
Meteorological officials have said the heat would likely last several more days – scorching crops, killing wildlife and endangering anyone laboring outdoors.
Officials warned people to stay out of the sun, cover their heads and drink plenty of water. Still, poverty forced many to work despite the risks.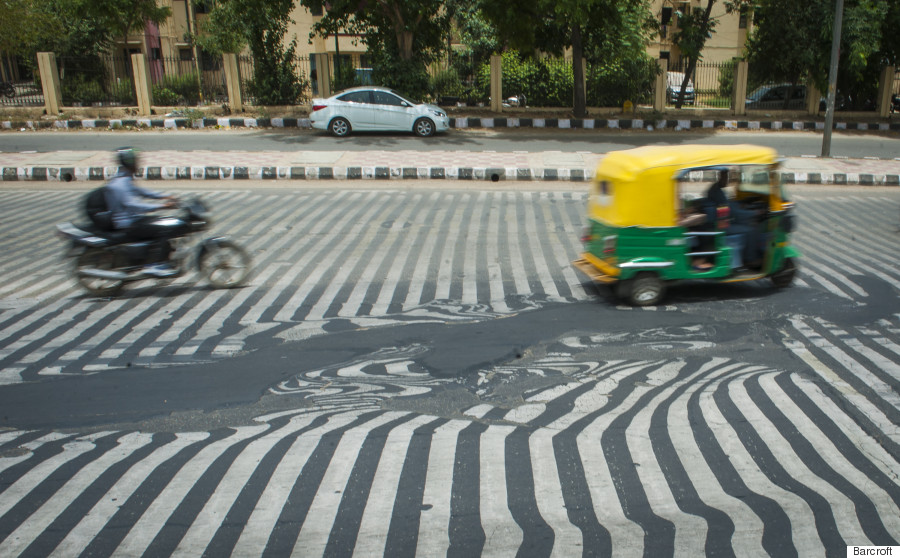 A road melting near Safdarjung Hospital in New Delhi, India
"Either we have to work, putting our lives under threat, or we go without food," farmer Narasimha said in the badly hit Nalgonda district of southern Andhra Pradesh state.
"If I don't work due to the heat, how will my family survive?" said construction worker Mahalakshmi, who earns a daily wage of about $3.10 in Nizamabad, a city about 150 kilometers (93 miles) north of the state capital of Hyderabad.
Arkaprava Ghosh/Barcroft

Arkaprava Ghosh/Barcroft

Arkaprava Ghosh/Barcroft

Hindustan Times via Getty Images

Hindustan Times via Getty Images

NARINDER NANU via Getty Images

Pacific Press via Getty Images

ASSOCIATED PRESS

Pacific Press via Getty Images

NARINDER NANU via Getty Images

Pacific Press via Getty Images

ASSOCIATED PRESS

ASSOCIATED PRESS

ASSOCIATED PRESS

NOAH SEELAM via Getty Images

NARINDER NANU via Getty Images

MONEY SHARMA via Getty Images

CHANDAN KHANNA via Getty Images

Rajesh Kumar Singh/AP

NARINDER NANU via Getty Images

ASSOCIATED PRESS

Arkaprava Ghosh/Barcroft