Leaky defence results in slip up on home soil for Reggae Boyz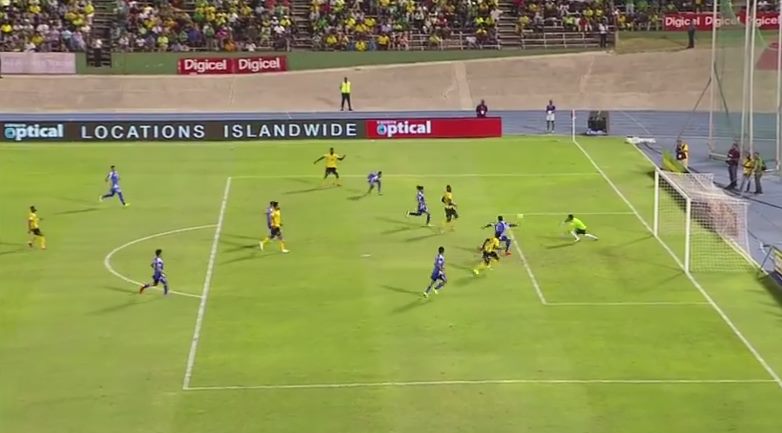 Jamaica's dream of making a second appearance at the FIFA World Cup finals are in jeopardy following Friday's shock 3-2 reversal in Kingston to Nicaragua.
The Reggae Boyz, fresh from their historic run of becoming the first Caribbean team to reach the CONCACAF Gold Cup final, were stunned by the lively central Americans.
But Winfried Schäfer's side can retrieve the disaster when they tackle Nicaragua inTuesday's second leg at the capital city of Managua (8.30pm).
And it could have been a lot worse with Jamaica staring at a hefty defeat when losing 3-0 after 48 minutes, only for the Boyz to replicate the fighting spirit and resilience shown in the Gold Cup by reducing the deficit courtesy of strikes from Darren Mattocks and Adrian Mariappa.
The National Stadium, which was far from full, was silenced after just eight minutes following goals from skipper Manuel Rosas and Carlos Chavarria.
And the contest appeared to be over after Leonard Galeano extended the lead on 48 minutes.
But Jamaica rallied to create chances, and came perilously close to snatching an undeserved equaliser to take to Nicaragua in Tuesday.
After a cautious start it was the visitors who took advantage of Kemar Lawrence handling the ball inside the box, Manuel Rosas slotting home the ensuing penalty on four minutes by sending goalkeeper Andre Blake the wrong way.
Four minutes later Chavarria doubled the lead off the post, polishing off a clever move after being sent clear on the counterattack that caught the back four flat-footed.
Although the Boyz only had two scoring opportunities in the opening 45 minutes, the industrious Demar Phillips involved in both, the side were largely ineffective.
Phillips set up captain Rodolph Austin, whose thunderous shot was deftly pushed over the crossbar by keeper Justo Lorente, and unmarked Simon Dawkins drove the ball over the target.
It went from bad to worse for the Boyz after Galeano's 48th-minute goal gave the central American underdogs a three-goal advantage.
The Jamaica fans, shocked by the apathy and lack of cohesion of the side, started booing the team – picking out Chelsea's new £4m defender Michael Hector for heckles – until a turnaround of fortunes resulted in two goals to give the Boyz a fighting chance to progress in the World Cup qualifiers.
Striker Mattocks made the breakthrough on 69 minutes, followed by a strike from Mariappa nine minutes later, which at least turned the jeers into cheers.
Yet worryingly, Jamaica conceded three goals for the second successive game and looked lost in front of goal.
In contrast, Nicaragua had a stubborn rearguard with shotstopper Llorente in fine form but unable to deal with the danger of late goals.
The Boyz have a second opportunity to see the challenge of Nicaragua, a country known more for producing professional baseball players than footballers, and anything other than a victory on Tuesdaywill see their hopes dashed of making the 2018 World Cup finals in Russia.
JAMAICA: Blake; Hector, Phillips (Brown 67), Powell (Parkes 76), Lawrence; Mariappa, Dawkins (Humphrey 72), Austin; Watson, Mattocks, Barnes Subs: Kerr, Miller, Campbell, Laing, Gray, Grant, Clennon, Seaton
Qualifying 3rd Round (Two-legged ties, first legs played)
Curacao 0 El Salvador 1, Canada 3 Belize 0, Grenada 1 Haiti 3, Jamaica 2 Nicaragua 3, St. Vincent & Grenadines 2 Aruba 0, Antigua & Barbuda 1 Guatemala 0
September 8: Nicaragua v Jamaica (Nicaragua National Football Stadium, Managua, 8.30pm ko local time)
Qualifying 4th Round (Round-Robin)
Group A: Honduras, Mexico, Curacao or El Salvador, Canada or Belize
Group B: Panama, Costa Rica, Grenada or Haiti, Jamaica or Nicaragua
Group C: Trinidad & Tobago, USA, St. Vincent & Grenadines or Aruba, Antigua & Barbuda or Guatemala
Final Qualifying Round (Round-Robin)
Top two teams from each group will play in a six-team mini-league, with the top three automatically qualifying and the fourth-placed team moving into an inter-Continental play-off.