The struggle is real on this one. It's hard out here for an independent artist but this takes it to a whole new level. According to Huzlers, a Chicago teen named Tyshaun Granger was fired from McDonald's after he had been caught replacing the toys in Happy Meals with his mixtape, "Tales Of A Real N*gga."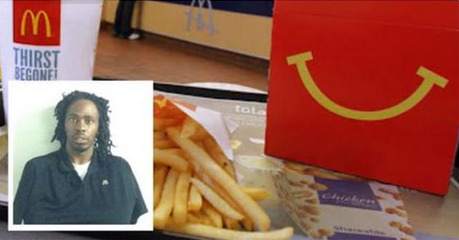 The cd was placed in a paper sleeve with the title written on it in sharpie marker. Tyshaun was caught after a customer, Sarah Platt, played the mixtape in her car on the way home from the restaurant.
"I bought my son a Happy Meal and inside came a mysterious cd," she explains. "I, like any other parent, would assume the cd was for children. I played the cd in my car for my son while we drove home and lord Jesus have mercy on Tysahun, the mixtape was dreadful. Not only was it completely inappropriate, but it was also the weakest set of bars I've ever heard." Wow.
It is beleived that Tyshaun had replaced over 300 toys in Happy Meals with his mixtape before he was caught and it came to his manager's attention. Tyshaun has been fired from McDonald's.